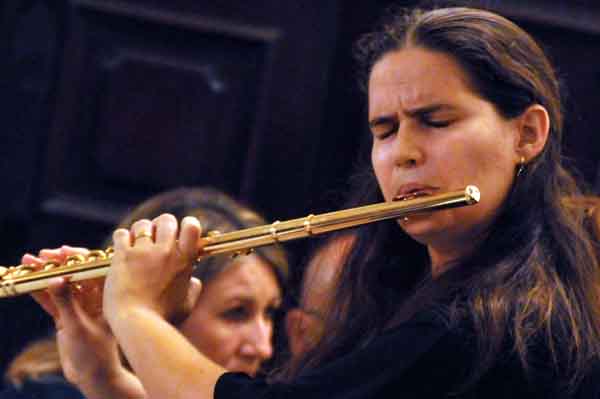 The flutist Niurka González and pianist Maria del Henar Navarro, members of "Duo Ondina, offered in the Hemiciclo of the National Museum of Fine Arts, a performance demonstration of the maturity of a group that ranks among the most notable in the field of chamber music in  our country. 
 This was demonstrated since the first passages shared of the Hungarian Peasant Suite, Bela Bartok (1881-1945), to the interpretation of Cuban music that ended the evening. 
 Meanwhile, the discourse of the flutist and pianist holder were precise in the transmission of the air of the Grande polonaise op. 16, composition of the german Theobald Boehm (1794-1881) and the popular Fantaisie pastorale Hongroise, from the hungarian François Doppler (1821-1883). 
 From the national music Niurka and María del Henar adapted to be played with flute and piano with fortune Miradas furtivas, enjoyed at the concert by the author, Jose Maria Vitier (1954). The work originally conceived for piano and saxophone, met public expectations. And then came the work of Andres Alen (1950), Temas con Variaciones, a perfect musical combinatio that came out from the protagonists. 
 It was a beautiful way to evoke the steps of the Cuban maestro Roberto Ondina (1904-1963), eminent cuban flautist  thas is honoured by Niurka and María del Henar since 1997 when they decided to work together.  
By Ricardo Alonso Venereo  
Source: Granma
Available: http://www.granma.co.cu/2012/06/20/cultura/artic04.html
20 de junio de 2012