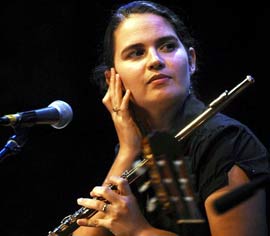 …I declare we are in presence of a unique, exceptional talent, both for her qualities as instrumentalist, as well as for her musical gift… I think I can affirm that she will be the great flute player of South America in the future...Alain Marion,  professor of flute National Conservatory in Paris (January 1995), extract from a letter
Born on March 21st, 1977, she starts her music studies in 1989 at the "Manuel Saumell" Music Conservatory with professors Luisa M. Hernandez (flute) and Maria Isabel Castro (clarinet).After graduating as flautist and clarinetist in 1995 from the "Amadeo Roldán" Music Conservatory under the guidance of professors Haslina Kusiak (flute) and Aldo Salvent (clarinet), she continued her studies at the Higher Institute of Arts in Cuba with professors Luis Bayard, flute and Jesus Rencurrell, clarinet.
In 1997, she obtained first prize at the Conservatoire National Supérieur de Musique et de Danse de Paris (CNSMDP), and in 1999, graduated with Golden diploma at the Higher Institute of Arts, in Cuba.She has taken lessons from Masters Alain Marion and Sophie Cherrier, Claudi Arimany and Andras Adorjan. She has assisted to master classes of Jean-Pierre Rampal, Michel Debost and Barthold Kuijken.
Her solo performances with the National Symphonic Orchestra of Cuba conducted by Masters Leo Brouwer, Enrique Perez Mesa, Ivan del Prado, Jean Paul Penin, Sebrina Alfonso and Bernard Rubenstein, with the National Concert Band conducted by the Spanish Master José Cervero Pizarro, with the Musica Eterna Chamber Orchestra  conducted by Master Guido Lopez Gavilan, with the Solistas de la Habana Ensemble (Chamber Orchestra) under the conduction of Master Ivan Valiente and with the European Union Chamber Orchestra conducted by the Norwegian violinist Eivind  Aadland, as well as excellent orchestras in Chile and Brazil are outstanding.In 1994, she went on a concert tour in Barcelona as a member of the Trio de Musica de Camara Habana (Habana Chamber Music Trio); during which she performed as soloist in a concert sponsored by the PHONOS Foundation.
Awards
She has won the Grand Prize in the "Amadeo Roldán" 1991 and 1994 competitions, as well as Special Mention to the Best Interpretation of Cuban Music;  Grand Prize in the 6th Competition and Chamber Music Journey of the Centro Nacional de la Musica de Conciertos (National Center for Concert Music), in which she also received Special Mention to the Best Interpretation of Baroque Music and of Latin American Music in 1993, Prize in the Chamber Music Competition of the National Union of Artists and Writers of Cuba; Special Mention to Interpretation Mastery, 1993; Prize in the 9th "José Ardevol" Festival and Competition of Contemporary Music, as well as Special Mention for the Interpretation of a Cuban Opus; First Place and Special Mention for the Interpretation of a Cuban Opus in the Musicalia'95 Competition of the Higher Institute of Arts. In 2009, she received the prize "Espiral Eterna" awarded for the first time by the Office of Master Leo Brouwer. Niurka has represented Cuba in festivals in Ecuador, Brazil, Mexico, United Kingdom, France, among others, where she has given concerts and master classes.Her collaboration as soloist and member of different chamber music formats has led her to perform in renowned halls in Mexico, Dominican Republic, Argentina, Spain, Chile, France, China, England, Italy, Brazil, Paraguay, Ecuador, Uruguay and United States.In 1996, she was awarded a one-year study grant by the French Ministry of Foreign Relations. She studied at the Paris Higher National Conservatory of Music (CNSMDP) with Professor Sophie Cherrier. She obtained First Prize in the Flute Prize Competition of said conservatory, with which she attained the Diploma of Higher Level Studies.She has been invited by Master Claudio Abaddo to take part in orchestral perfecting courses sponsored by the "Gustav Mahler" Foundation and held in the cities of Ferrara and Bolzano.In 2002, she records her first CD "Flauta Virtuosa" (Virtuous Flute) with Maria del Henar Navarro, which received the award to the best "Opera Prima" in the Cubadisco 2003 Contest.During all these years, her collaboration in recordings and concerts of musicians, such as Silvio Rodríguez, Leo Brouwer, Jose María Vitier, Amaury Pérez, Ernan Lopez-Nussa, Liuba María Hevia, Chucho Valdés, Guido Lopez Gavilán, Jorge Lopez Marín, among others, stand out.Since 1996, with pianist Maria del Henar Navarro, she formed the 'Dúo Ondina' (Ondina Duo).At present, she is soloist of the Association for Concert Music in Cuba, forms part of the group of musicians that accompanies troubadour Silvio Rodriguez and is flute professor at the Higher Institute of Arts, of Havana, Cuba.
Updated: December 3rd., 2011