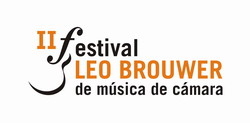 The II Festival of Chamber Music Leo Brouwer starts on Friday in Havana, dedicated to the work of the great musician and to other Cuban authors.

These five days will be dedicated to the work of Leo Brouwer, the Cuban composer that has made more contributions to contemporary music, from next Friday, October 8 at 6: 00 p.m., in the Basílica Menor de San Francisco de Asis, beside of Del Puerto Avenue.

On this occasion the II Festival Leo Brouwer Chamber music not only will show scores of celebrated author, orchestral director and guitarist, but will also promote the hearing of important contributions of other Cuban composers.
\r\n
A special place will have the works written by cuban women from the 19th century to today, which will be permorfed on Saturday 9 (Cecilia Arizti, Magaly Ruiz, Gisela Hernández, Tania León, María Álvarez Ríos, Sigried Macías and Keyla Orozco) and Wednesday 13 (Tania León, Keyla Orozco and Magaly Ruiz).

Renowned performers from Spain and Argentina, along with other prominent instrumentists and enssembles, will participate in the Festival, which in its opening will honour Alejandro García Caturla, forerunner of the island contemporary music, and Hilario González.
\r\n
That day will be held the world premiere of Brouwer's Trio sobre temas de Sor, in its version for flute (Niurka González), cello (Amparo del Riego) and guitar (Víctor Pellegrini), a program that will involve, in addition, the Coro Entrevoces under the direction of Maestra Digna Guerra, and Havana String Quartet.

On Thursday 14, under the name Todo Brouwer, the performances will be devoted entirely to the music composer awarded including two absolute premieres: Paisaje cubano con rumba (version for two guitars and voices), by Víctor Pellegrini, Ali Jorge Arando and Vocal Sampling and Elegías martianas for flute and piano, by Duo Ondina
\r\n
For closing the festival, on Friday 15, Brouwer music and the remarkable Brazilian author Egberto Gismonti will joint in the Basilica in a concert featuring guitarist Víctor Pellegrini, Havana String Quartet and pianist Harold Lopez Nussa, the Santa Cecilia wind quintet and Havana String Quartet.
\r\n
Bu: Pedro de la Hoz
Source: Granma. Available at: http://granma.co.cu/2010/10/06/cultura/artic04.html